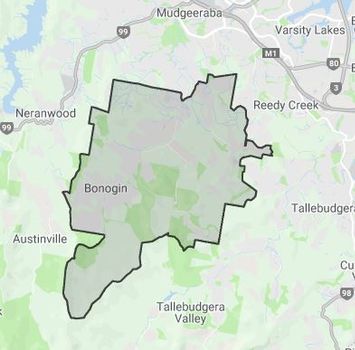 Bonogin covers an area of about 3900 hectares or around 39 square kilometres (9637 acres) and had a recorded population of 4,573 people (at the 2016 Australian Census).  
It is surrounded by the suburbs of Mudgeeraba (about 9 kilometres away), Austinville, Reedy Creek and Tallebudgera Valley.

Living in Bonogin
There are approximately 1,585 houses and 36 units in Bonogin and residents say that they chose Bonogin over the surrounding suburbs due to it having bigger blocks than surrounding suburbs and acreage properties, a leafy green environment which offers privacy with mainly local traffic, as well as a greater sense of community with neighbours who look out for each other.


You might meet up at The Hunted Cafe - with locally sourced coffee, tasty food, beautiful gifts and corner store products (tis great coffee by all reports!)   You'll find it at 555 Bonogin Road.
The local state forest also offers impressive bushwalks complete with wallabies and koalas and Bonogin is fortunate to offer horse enthusiasts an amazing local horse riding establishment – Bonogin Valley Horse Retreat (for more info see Bonogin - Sporting & Activities).
All this and only 10–12 minutes' drive to some of the best schools in the state (see schools), the village of Mudgeeraba, Robina Town Centre and 20 minutes to the beach, you can be close to all amenities but still live far enough away to enjoy the peace & quiet that acreage lifestyle brings (and some very nice views too).

Community Organisations & Groups:

Bonogin Valley Rural Fire Brigade:
Located at 660 Bonogin Road, the Brigade was formed in 1982.  Today the Station has a fleet of four fire appliances and a membership of operational and support members of forty. They attend bushfires and other incidents within the local surrounds, the Gold Coast area and throughout Queensland & interstate and offer the community awareness for fire safety and mitigation.  They have approximately 25 volunteers (who train every Tuesday night from 7:00 pm to 9:00 pm) and always welcome new members to the organisation. 
More info: http://www.bvrfb.org.au/ or call 5522 9041.  (For life-threatening emergencies phone 000). 
Bonogin Valley Community Association Inc
Located at 1 Waratah Court, Bonogin, members are welcome to help work with Council and other government departments to protect and promote Bonogin Valley, represent community interests, and host the Annual Community Fair.  More info: 07 5522 9041
Bonogin Bushcare Group Located at 22-24 Parkmeadows Court, Bonogin, it was established in April 2013 and works to improve the health of Bonogin Creek through native tree planting and weed control at Davenport Park, Bonogin Valley.
More info here.
Bonogin Valley – community closed facebook group.
This group is for residents of Bonogin Valley to share community-related matters. Members can post interesting news, events and information that is relevant to our local area. More info here.

Bonogin Valley & Mudgeeraba Community – public facebook group
This group was created for the Bonogin Valley and Mudgeeraba Community to promote an easy happy community environment. More info here.

History:
The origin of the name Bonogin appears to be unrecorded but is possibly connected to an Aboriginal word Boonow meaning red bloodwood.
Farmland was settled by Europeans in the Bonogin valley as early as the 1870s, with families cutting timber, operating dairies and in later years growing bananas.
A small school opened in 1913 but closed by 1924 and the building was relocated in 2934.
In the late 1980s, a new wave of settlers found the valley and the old farmlands were subdivided into smaller acreage blocks.
For a full history of the region see beautiful, historical Mudgeeraba
If you would like to link up with local residents and local business operators, why not join one of the local facebook groups:

​​​​​​Links to other suburbs